<![CDATA[Over the past few months I have ventured into the world of online clothes shopping. And by this I don't mean that I bought another pair of khakis at the Gap online because I hate going to the mall. I mean that I have been going to "the mall" online.  And let me tell you it is a wonderful and interesting world. First I tried Stitch Fix after seeing friends and bloggers talk about it on Facebook.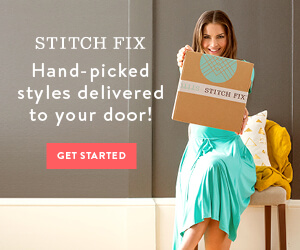 I was in desperate need of some new professional type clothes and wanted to break out of a style rut, so I decided to give Stitch Fix a try.
The main idea behind Stitch Fix is that you sign up with them, give them all your body measurement info, choose which styles of clothes you prefer, let them know of any upcoming clothing needs you have, and then
YOU
let
THEM
pick the clothes for you! This was an intriguing idea for me as I am style challenged and never know what to wear. I often end up with 15 brown t-shirts or am still wearing cargo pants from five years ago that don't really fit. I am not that vain and don't care that much about how I look, but at some point I was starting to embarrass my family (hello, tween daughter 😉 ). Also, my life is moving more from yoga teacher/stay at home mom realm to doing things out in the world realm, so it matters a little more how I look. Stitch Fix was a bit scary for me at first, but in the end I have appreciated having some style injected in my wardrobe. People have definitely noticed. Acquaintances comment on my outfits (to my face, in a positive way!) Friends will look at me and say, "You're wearing Stitch Fix today, aren't you? You look good."
The down side of Stitch Fix is a stranger is picking out your clothes,
so good communication and an open mind are key.
The month I forgot to tell them I gained five (okay ten) pounds was a disaster. I have learned to be specific about my likes and needs. But if a Stitch Fix outfit does not work for you, all is not lost. You can return what doesn't work for you for free if you do it within three days. If you return the whole pack, they will still charge you a $20 styling fee, but odds are you will like something. The other item to note is that if you keep the whole pack you get a %25 discount. Since I love a good discount, this has prompted me to keep jewelry I normally would have sent back but in the end liked and used anyway. (Jewelry is a new concept to me).
Thred-Up works like this. You pick your own clothes from a large range of high-quality, brand name second hand merchandise. Think shopping Gap and Old Navy and Talbots all at the same time except everything is at least half price of what you spend at the store or their own online site. Pretty cool, huh? You just choose which section of the store you want to browse and then enter your size and they present you with a multitude of items that you pick from. Now the downside of this is that I could just log on and buy 10 more brown t-shirts. But sometimes you do know what you want and what you need and can just go pick it yourself. For instance this summer I really needed a new pair of khaki shorts and a new pair of capris. Nothing fancy. Just shorts to wear hiking and having adventures with my kids all summer long. My old ones either didn't fit anymore of were threadbare. I scored these items for $10 to $15 a piece. When they arrived they fit and it has been true love ever since.
On the other hand, I also ordered a professional outfit just for comparison's sake. I picked these black pants and black top. The outfit turned out much sexier than I had wanted for professional wear. It turns out you can only tell so much from a picture and short description. The pants are skin tight (think Oliva Newton John at the end of Grease) and the top is a little more off the shoulder than I realized. Since the items were so inexpensive, I decided to keep them and wear them on a date night with my husband when the sexy Olivia Newton John look would be appropriate. However, Thred-Up does have a 30 day return policy in which you can get full price back as store credit or cash back minus shipping.
But the best news about Thred-Up is yet to come!
They have kids clothes!  And plus sizes!
Two things that Stitch Fix does not currently offer.
Since my daughter's birthday was coming up I went on a little shopping spree for her as well. I scored a pair of Gap khaki shorts for her with the tags still on that fit great. I also found a cute summer dress and a new purse. Now the purse was also a little smaller than I had hoped, but it was cheap and will still be useful for her on occasions when she wants to pack light. She loves it and has taken it with her everyday to day camp this week, so still a win. On then kids clothes note (or adults for that matter), Thred-Up also takes your old clothing to sell. But they only accept name brand clothing that is in great condition. In my house we don't have any of that lying around, but maybe you do. If that is true, you could get credit from your sales and then buy new clothes for practically free.
My final analysis in comparing Thred-Up and Stitch Fix is this.
For kids clothing and casual basics for me I will turn to Thred-up.
I like the ethos of using second hand items and I like a good bargain.
However, if I am looking for nicer items or professional clothing, I will still choose Stitch-Fix.
They seem to know what clothing will look good on me and what suits my needs, so it is less of a crap shoot than buying an item I can't try on myself before I commit to purchasing it. I hope this comparison has been helpful for you, and if you are interested in trying either company, please click on the links above. They do give credit for referrals! Happy Shopping! http://www.thredup.com/r/EJFTU4 https://www.stitchfix.com/referral/4625256]]>
Facebook Comments